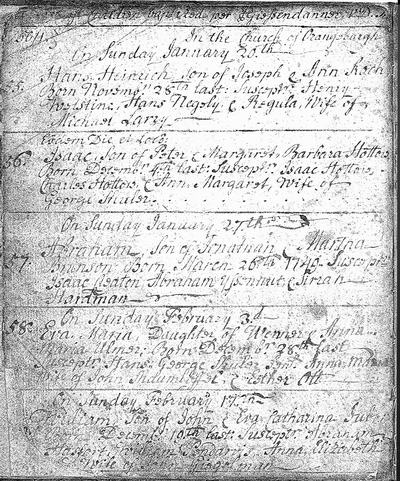 055} 1750/51 ---- In the Church of Orangeburgh
On Sunday January 20th.
Hans Heinrich, Son of Joseph & Ann Koch,
Born Novembr. 28th last: Susceptr. Henry
Wetstine, Hans Negely & Regula, wife of
Michael Larry.

056} Eôdem Die et Locô (The same day and place)
Isaac, Son of Peter & Margaret Barbara Hottow.
Born Decembr. 4th last: Susceptr. Isaac Hottow,
Charles Hottow & Ann Margaret, wife of
George Shuler.

057} On Sunday January 27th
Abraham, Son of Jonathan & Martha
Brunson: Born March 26th 1749. Susceptr.
Isaac Cleaton; Abraham Issenhut & Sirrah
Hardman

058} On Sunday February 3d
Eva Maria, Daughter of Werner & Anna
Maria Ulmer: Born Decembr. 28th last
Susceptr. Hans George Shuler Senr., Anna Maria
wife of John Shaumlöffel, & Esther Ott

059} On Sunday February 17th
William, Son of John & Eva Catharina Jubb;
Born Decembr. 19th last: Susceptr. Abraham
Hasfort, William Pendarvis, Anna Elizabeth
wife of John Giegelman.