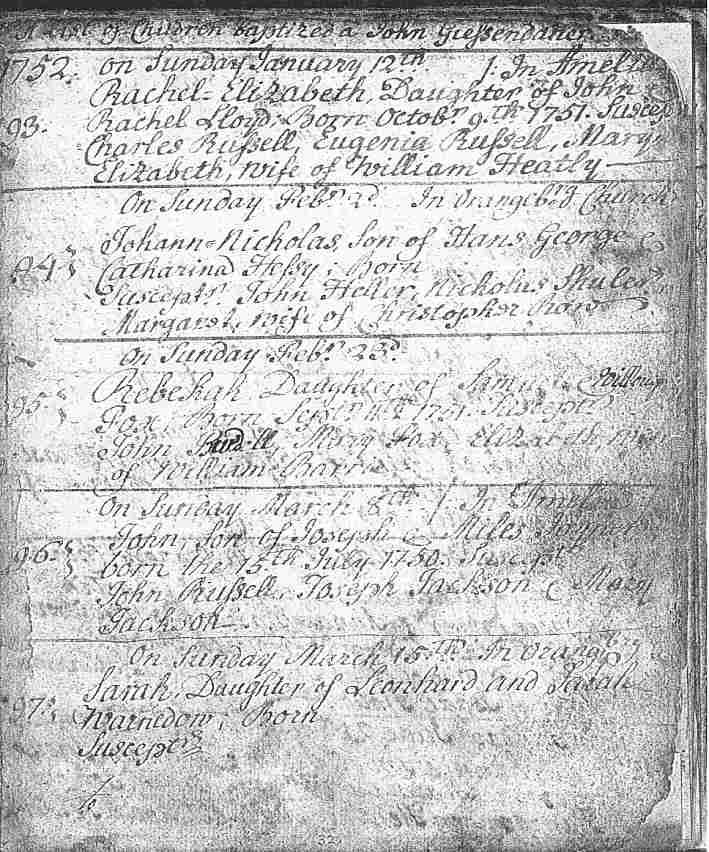 093} 1752. On Sunday January 12th [:In Amelia]
Rachel Elizabeth, Daughter of John &
Rachel Lloyd; Born Octobr. 9th 1751. Susceptr.
Charles Russell, Eugenia Russell, Mary
Elizabeth, wife of William Heatly

094} On Sunday Febr. 2d. In Orangeb.rg Church
Johann Nicholas, Son of Hans George &
Catharina Hessy: Born
Susceptr. John Heller, Nicholas Shuler,
Margaret, wife of Christopher Row.

095} On Sunday Febr. 23d.
Rebekah, Daughter of Samuel & Willoughby
Fox; Born Septr. 11th 1751. Susceptr.
John Burdell, Mary Fox, Elizabeth, wife
of William Barrie

096} On Sunday March 8th [:In Amelia]
John, Son of Joseph & Miles Joyner;
born the 15th July 1750. Susceptr.
John Russell, Joseph Jackson & Mary
Jackson.

097} On Sunday March 15th In Orangeb.rg
Sarah, Daughter of Leonhard and Sarah
Warnedow. Born
Susceptr.