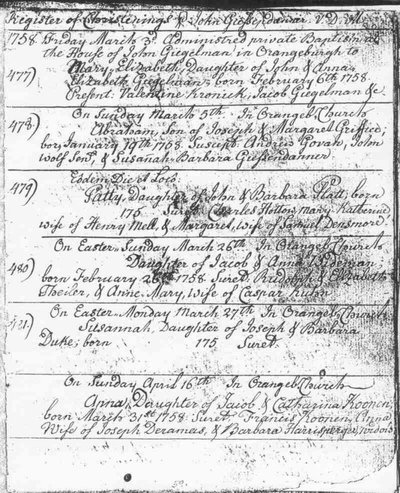 477} 1758. Friday March 3d. Administred private Baptis'm at
the House of John Giegelman in Orangeburgh to
Mary Elizabeth, Daughter of John & Anna
Elizabeth Giegelman; born February 6th 1758.
Present: Valentine Kronick, Jacob Giegelman &c.

478} On Sunday March 5th In Orangeburgh Church
Abraham, Son of Joseph & Margaret Griffice;
born January 19th 1758. Suscept: Andrew Govan, John
Wolf Senr, & Susannah Barbara Giessendanner.

479} E˘dem Die et Loc˘ (The same day and place)
Patty, Daughter of John & Barbara Platt, born
---- 175-. Suret. Charles Hottow, Mary Katherine,
wife of Henry Mell, & Margaret, wife of Samuel Densmore.

480} On Easter Sunday March 26th In Orangeburgh Church
----- Daughter of Jacob & Anna Wideman;
born February 26th, 1758. Suret: Rudolph & Elizabeth
Theiler, & Anne Mary, wife of Caspar Kuhn.

481} On Easter Monday March 27th In Orangeburgh Church
Susannah, Daughter of Joseph & Barbara
Duke; born ---- 175- Suret.

(482)} On Sunday April 16th In Orangeburgh Church
Anna, Daughter of Jacob & Catharina Koonen;
born March 31st. 1758. Suret. Francis Koonen, Anna,
wife of Joseph Deramus, & Barbara Harrisperger, widow.