TRAVELS 3,000 MILES FOR BOOK SIGNING
Not many authors travel 3,000 miles to attend the first "book signing" of their newly published book.
David Getzendanner of Salem, Oregon is traveling that distance to Frederick to introduce his new book "Getzendanners, Etc." His "book signing" will be held on November 27th at the Rose Hill Manor Museum, 1611 North Market Street in Frederick, Maryland.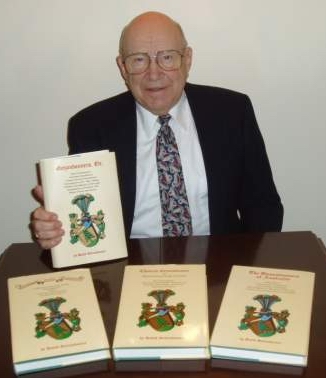 "Getzendanners have been a part of this area of Maryland for over 270 years" he said, "even before Frederick and Frederick County were incorporated or came into existence so it is natural to want to come to Frederick to introduce my new book."
An important section of "Getzendanners, Etc." provides the history and genealogy of the present Getzandanner families of Frederick. "Getzendanners, Etc." also includes the history and genealogy of the Getzendanner families who moved from Frederick County west to Pennsylvania, Ohio and Indiana, and south to Mississippi in the late 1700's and early 1800's. Other sections of the book provide the genealogical history of the Giesendanners of Holland, the Giezendanners of Norway, and the German/American Gitzendanners.
"Traveling to Frederick will be much easier than the trip I took 6 six years ago to introduce my book "The Giezendanners of Australia" to family and friends there. My wife, Betty, and I enjoyed being in Australia for three months, traveled over 10,000 kilometers in that down-under country, held "12 book launchings" (Australian dialect) for family, friends, and Lutheran historical societies, before returning to our home in Oregon. (The originating Australian Giezendanner was a pioneer German speaking Lutheran pastor).'
(Pastor) David C. Getzendanner, a Lutheran minister, has many family roots in Frederick County. His paternal grandfather, Milton, lived in Walkersville, before moving to Illinois in 1864. His mother, Catharine Alice Cramer, was born and lived in Braddock Heights, and attended Hood College. His maternal great grandparents lived at Rose Hill where the book signing will be held. David and Betty organized the 265th Celebration of the Getzendanner family's arrival in Maryland, held at Hood College in 1997 that was attend by some 300 relatives and friends. His first family book "Getzendanner Familie Giezendanner" received an award from the Maryland Historical Society in 1981 in the family history category.
Friends, family members, historians, genealogists, interested persons are invited to meet and visit with the Getzendanners at the book signing on Sunday November 27th from 1-4 PM at Rose Hill Museum.