Deze calligrafie en schilderijen zijn gemaakt door Babeli Giezendanner (1831-1905), de weduwe van Ulrich Aemisegger. Toen haar echtgenoot in de winter van 1876 niet thuis kwam en hij 12 weken later (toen de sneeuw was gesmolten) dood werd terug gevonden, moest zij zichzelf en haar drie kinderen onderhouden. Gelukkig had ze van haar vader, die onderwijzer was, netjes leren schrijven, bovendien had ze talent voor tekenen.Ook hier dus een samenloop van omstandigheden als aanleiding voor een carrière in de naïeve kunst.
Das Werk Babeli Giezendanners ist vielgestaltig. Es umfasst Darstellungen von Einzelhöfen, Häusergruppen, Weilern und Dörfern. Im Bereiche der Senntumsmalerei finden wir Alpaufzüge, Viehschauen und Einsichten in Alphütten und Ställe. Auch Melkeimerbödeli fehlen nicht, Sennenstreifen hingegen sind nicht sicher zuweisbar. Die hohe Zahl von Gedenktafeln für Familienanlässe ist bis heute nur ungenügend erfasst. Sie umfassen alle Lebensbereiche von der Geburt zur Taufe, von der Hochzeit bis zur Trauertafel für die Hinterbliebenen. Für Gedenkalbums, sogenannte "Vergissmeinnicht", malte sie nicht nur die Bilder, sondern dichtete und schrieb auch die Sinnsprüche. Da sie ihre Werke nicht signierte, kann der Nachweis für eine Bemalung von Gebrauchsgegenständen wie Zifferblätter für Bauernuhren oder Schirme nur ungenügend erbracht werden. Häufig wurde Babeli Giezendanner auch in Verbindung gebracht mit den anonymen, grossen lithographierten Dorfansichten von Niederuzwil und Oberuzwil. Anlass dazu war offenbar die "Tupf".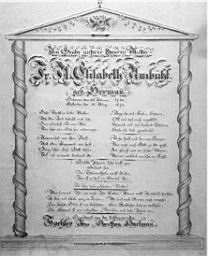 Aanvankelijk trok ze op de bonnefooi door het dal en bood haar diensten aan bij de lokale boeren. In ruil voor kost en inwoning werd een schilderij van de boerderij gemaakt en deed ze daarnaast het nodige schrijfwerk voor de familie, waarvan velen de schrijfkunst niet machtig waren. De kinderen werden ingezet bij alle voorkomende werkzaamheden op de boerderij.
Barbeli went from farm to farm offering her skills as writer, poet and painter. Her children often had to do whatever had to be done on the farm. Many farmers recognized her specific art and granted her with a deal, where she and her children could have shelter and boarding, in return she would make a painting of the farm.
Babeli Giezendanner, Das Elternhaus ihres Mannes Ulrich Aemisegger in der Mistelegg (Hemberg), um 1870; Auquarell auf Papier, 19,5 x 28 cm; Toggenburger Museum Lichtensteig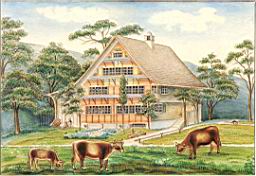 Interieur of exterieur, het maakte Babeli allemaal niet veel uit, zolang er maar brood op de plank kwam.
Die Toggenburgerin Anna Barbara Aemisegger-Giezendanner, genannt "S'Giezendanners Babeli" aus dem mittleren Toggenburg, Sankt Gallen, Schweiz. Sie malte Aquarelle von Häusern und Dörfern, Sennenbilder, gestaltete Haussegen oder Andenkenbilder und verdiente sich so den kargen Lebensunterhalt.
Einblick in den bäuerlich-sennischen Alltag durch lehrbuchähnliche Darstellung. Von dieser Darstellung sind - mit Variationen - acht Exemplare bekannt, um 1880, Aquarell, 16 X 28 cm; Toggenburger Museum Lichtensteig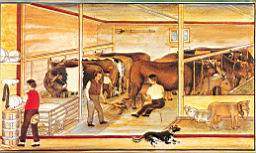 AEMISEGGER GIEZENDANNER ANNA BARBARA - [2001+2002+2003] / Rank: 6000
top price records:
Painting: USD 9478 / EUR 9509: "Alpaufzug"
Painting: USD 5129 / EUR 5840: "Bödeli für Johann Georg Blatter"
Drawing-Watercolour: USD 11110 / EUR 13213: "«Unterhalden, Engelburg»"
Drawing-Watercolour: USD 12308 / EUR 12310: "«Alpfahrt und Sennerei»"

Nooit zal Babeli hebben kunnen vermoeden, dat haar werk nu in deze prijsklasse is komen te liggen. Zij was allang blij met het dagelijks brood voor haarzelf en de kinderen.

Wirtschaft "Zur Toggenburg" (links) in Rbeineck, die Babelis Bruder Abrabam führte. Hier lebte die Künstlerin zwischen 1901 und 1904 um 1903, Aquarell auf Papier, 16 x 22,5 cm; Privatbesitz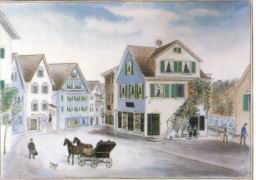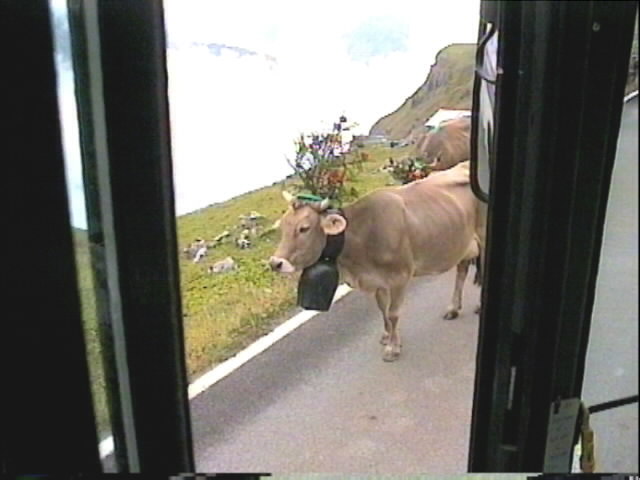 Tot op de dag van vandaag is de Alpaufzug (voorjaar) en de Alpabfahrt (najaar) een gebeurtenis in menig Zwitsers dorp. De koeien worden versierd met een tooi die nog het meeste lijkt op een opgetuigd kerstboompje en de mooiste koebellen denkbaar. Toen we in 1995 met 50 Amerikaanse Giezendanner nazaten door de Alpen reden werden we toevallig door zo'n Abfahrt verrast.
Het Alprecht heeft trouwens ook nog een zeer grote genealogische betekenis voor onze familie, waarvan de geschiedenis kon worden vastgesteld tot in 1396. Deze Alprechten werden toen verhandeld tussen twee machthebbers.
Alpfahrt um 1880, Aquarell auf Papier, 36,5 x 54 cm; Toggenburger Museum Lichtensteig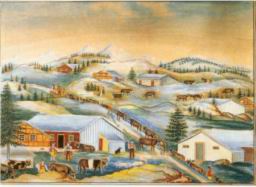 Alprecht (the right to the Alps): from our own experience we know the Alpenfahrt, farmers will bring their cattle to the higher Alps in the spring and bring them back in autumn. These rights belonged to the different Hofe (farms) and was measured in Rinderrecht (cattle right) = the right to bring up one cow or two Gaitlinge(? young cows), 4 calves or 5 goats. Hof Giezendan Alp rights have been traced back as far as 1396.
Today's estimate of Barbeli's work is likely to exceed 160 pieces of art.
Werd het totaal van Babeli's werk in 1941 tijdens een tentoonstelling in het Museum für Volkskunde te Basel nog geschat op 80 werken, dat getal kunnen we heden ten dage rustig verdubbelen.
Babeli Giezendanner, Alpfahrt, Aquarell auf Papier, um 1880, 36,5 x 54 cm; Toggenburger Museum Lichtensteig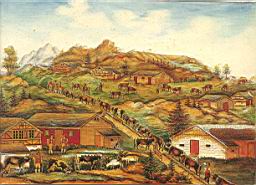 Babeli beperkte zich niet tot één bepaalde stijl, zij was ook verdienstelijk in ander soortig werk. Hier een voorbeeld van een aquarel uit 1880.
The earlier paintings of the cowherd's life were sometimes painted in oil or distemper on so-called cardboard tops. Among the artists were such well-known names like Heuscher, Müller, Zülle, Giezendanner, Haim and lastly J.B. Zeller. Nowadays, mainly particle board or wood is being painted on. In the same way that the whole pattern of life has changed, the technique of painting has changed as well
Szene aus dem Poesiealbum für Ida Looser, Kappel, 1880, Aquarell auf Papier, 9 x 14 cm
Toggenburger Museum Lichtensteig