How Dutch can it get?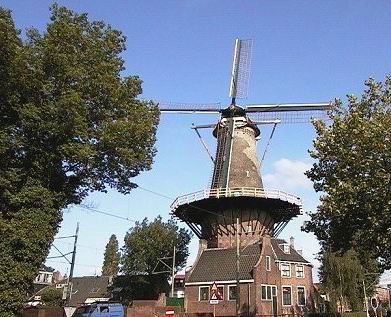 Last night (Oct 26, 2002) we slept in the old corn mill in Delft. In this mill, which name is "the Rose", lives a friend, who had invited us for the weekend. While a heavy storm was tormenting Holland during this night, we slept like roses in the old building, which was built in 1728 against the sub-structure of the mill.
I was a bit of coincidence to be in Delft about two weeks after Delft had been world news. The mill is about 10 minutes away from the New Church, where the Orange family members have been buried since 1584.
Only a few were not entered in the vault and William III of Orange is one of them. As King and Queen of England, the King-Stadtholder William III and his wife Mary Stuart are interred in Westminster Abbey in London. Being in England is just the right circumstance to become the name giver of Orangeburgh AND the reason for not being with the rest of his family now.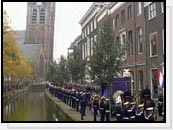 15 OCTOBER 2002
Thousands lined the streets of Delft on Tuesday morning as the Netherlands bade farewell to Queen Beatrix's husband Prince Claus van Amsberg, who died last week aged 76. The solemn occasion marked the first Dutch royal funeral in four decades, the last being that of Queen Beatrix's grandmother, Queen Wilhelmina, in 1962.
More info can be found on:
New Church - Delft