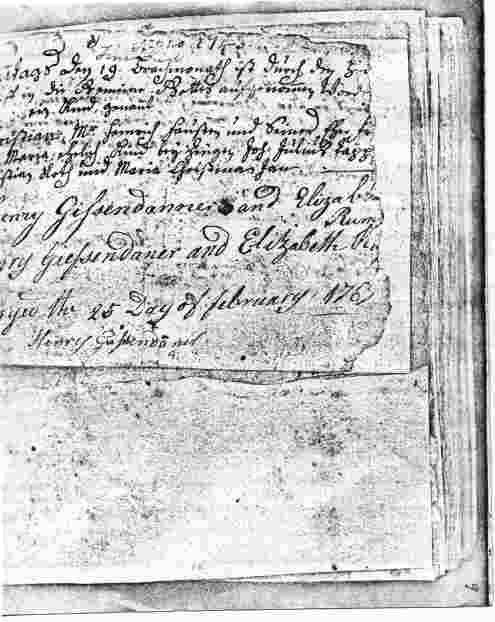 (transcription of the original by Joop Giesendanner)
© Joop Giesendanner, the Netherlands

Anno 1743
Sonntags den 19. Brachmonath ist durch Heili.
Tauff in der Gemeine Gottes aufgenommen Worden
ein Kind genannt
Christian, Mr Heinrich Fausten und Seiner Eher Frauen
Anna Maria, ehelich Kind beij ZeŁgen Joh: Julius Tappis
Christian Roth und Maria Christina Jan
translation by Joop:
copy of A.S. Salley pg. 101: typed by Cathy
until done, please
1743
('27') Sunday, The 19 Haymonth (July) is baptized in the Ch Bottes a child called Christian, lawful child, Mr. Henry Faussen & his wife Anna Maria (by witness) John Julius Tappier, Christian Roth & Maria Christianna his wife
(Rev. Giessendanner)

Comment Joop:
Ch Bottes should be Gemeine Gottes = in the Congregation of God

Not (Haymonath) July, but (Brachmonath) June; not Faussen, but Fausten

John Julius Tappier is Joh(annes) or Joh(ann) Julius Tapp
Maria Christianna his wife never existed or rather the record does not say it is his wife,
it looks like the original interpreter read "frau" in stead of Jan and concluded "wife".
I can not agree on that:
1. Frau would have been in front of the name, not after
2. The 'J' is clear, it's surely not 'F' (see Fausten), there is no ' r '; the last character misses the small comma that is usual for 'u'
there was a Maria Christiana Jan, but I cannot find any family with the surname Jan, there is however a Christina Yonn, married to Nicholas Yonn.