Another SC-connection
Not all Giezendanners in South Carolina had their roots in Orangeburgh.
Earlier in time a branch of the family landed in Maryland of which at least one came to South Carolina, Union District to be precise. His name was Thomas George, descendant of Christian, who had crossed the ocean from Rotterdam to Maryland in 1729. Christian's son Jacob was probably born on the journey and after he married Catherina Kast in Frederick, MD, they had 4 children of which one was this Thomas George.
Thomas married and had a son in MD, but both mother and son died soon after the child was born and Thomas moved from Maryland to South Carolina "to live among the Scots and the Irish".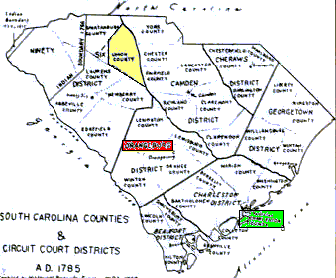 Did he not know, he had relatives close by in Orangeburgh, or did he settle himself among the English speaking on purpose? No evidence has been found that he was aware of their existence, so close and yet so far. Like in the old valley of Toggenburg, Switzerland, family members lived within reach, but came half way around the world, without knowing it. If he came by way of Charlestown, he practically traveled through their backyard.

The family name already had been slightly changed to Getzendanner and for simplicity, Thomas George reduced his surname to Danner and assigned the initial "G" to represent the "Getzen" in each of his children. By that time he had married again, Amelia Stokes, and lived in Union Co, SC. They had nine children and one of them was Jacob G(etzen) Danner.
This Jacob married Elizabeth Boyd, also from Union District, SC, but before any children were born they moved to Sucarnoochee River, just beyond Boyd, Alabama, in Sumter County. They had 10 children.
All of this had to lead to something and one of these children, Hugh Danner, is the reason. He is vividly remembered by Glenn Thomson Gordy in her book "Come walk with me", because he was her Great-Uncle.
This is what she wrote:
Great-Uncle Hugh Danner lived beside the road, across the woods from the Burton homestead.
He was a Civil War veteran, a man one could trust; a strong man physically and mentally; a good blacksmith; an excellent molasses maker; and a great hunter.
He was also noted for his story telling.
Uncle Hugh had told so many hunting tales that he could almost believe them himself. He always prefaced a tale with "Welsher", meaning "Well, Sir". As in, "Welsher, I shot that deer when he was running so fast that he fell in the creek and knocked it dry for 30 feet on either side". Or, "Welsher, I found so many squirrels in one hickory tree, I shot 'til my gun barrel was too hot to hold. I had to throw it in the creek to cool". And the gun was a muzzle loader.


Uncle Hugh always kept a horse named Lou. He rode her to DeKalb, a round trip of around fifty miles, when he was 90 years old, three years before his death.

He is buried beside his first wife in Boyd Cemetery.
Not all events about or around Hugh Danner were pleasant, as we read on:
Uncle Hugh Danner's son, John, married Callie Rigdon, daughter of John Rigdon and his first wife. One day in the 1890's* John and Callie left John's home on foot, intending to cross the Sucarnochee River by the Hopper bridge and go on her father's home in the Flatwoods east of Porterville. Finding the river at flood stage, they went to the Bill Gordy home and spent the night. The next morning Mr. Gordy and his son I.D., took them by wagon to Enondale. They then walked north about a mile and came to the railroad bridge across the river. Thinking the train had already passed, not knowing that it was late, they started walking across the bridge. Hearing the train whistle, they began to run, but Callie's shoe caught in a timber. As John attempted to free her foot, they were hit by the train. Both are buried in an unmarked grave in Boyd Cemetery.

*(note Joop: 20 Nov 1899)
Fragments of the lives of our ancestors, which are still remembered, because a dedicated mother, Glenn Thompson Gordy in Oktober 1980 wrote a book, which preface says:
It is written to and for my children, and theirs, that they may know their heritage. There are many gaps in the history of our ancestors; by this narrative,
I hope to make known to succeeding generations more of the happenings of my day and time, as they touched me.

Eleanor Glenn Thompson 1896-1984
(picture taken not long after her marriage, this horse is called Charlie)
Many more stories and pictures are availbable in two books written by David Getzendanner of Oregon, USA.
BOOKS: Getzendanner Family History
It's stories like these, that give us joy in researching our ancestors, it gives them a face, it makes us weep or laugh, it keeps them vivid and remembered, it makes us humble and thankful. And then there are still those who say: "He is researching the dead again".