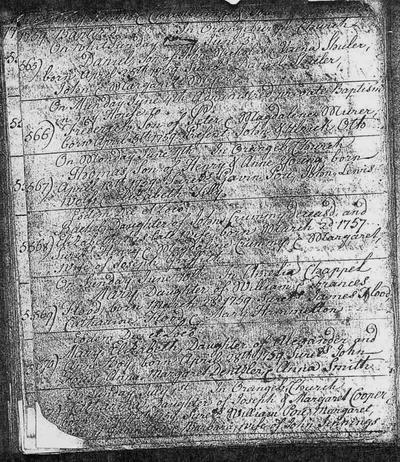 565}1759 Baptized ---- In Orangeburgh Church
On WhitSunday June 3d
Daniel, Son of John Nicholas & Verena Shuler;
born April 25th 1759. Surets Daniel Shuler,
John & Margaret Myer

566} On Munday June 4th Administred private Baptis'm
in my House to
Frederick, Son of Peter & Magdalene Murer;
born April 5th 1759. Present: John and Ulrick Otto

567) On Monday June 4th In Orangeb. Church
Thomas, Son of Henry & Anne Young; born
April 13th 1759. Surets Gavin Pou, John Lewis
Wolf; & Elizabeth Tilly

568} E˘dem Die et Loc˘ (The same day and place)
Rachel, Daughter of John Crummy deceas'd, and
Elizabeth, his late wife; born March 2d 1757
Surets Henry & Magdalene Crummy, & Margaret,
wife of Joseph Griffith

569} On Sunday June 10th ---- In Amelia Chappel
Mary, Daughter of William & Frances
Flood; born March 23th 1759. Surets James Flood,
Catharine Flood, & Mary Hammelton

570} E˘dem Die et Loc˘ (The same day and place)
Mary Elizabeth, Daughter of Alexander &
Anne Boy; born April 28th 1759. Surets John
Foust, Anna Margaret Dentzler, & Anna Smith.

571} On Sunday July 1st In Orangeb. Church
Catharina, Daughter of Joseph & Margaret Cooper;
born May 17th 1759. Surets William Pou, Margaret,
wife of Gavin Pou, & Barbara, wife of John Jennings.