scan of original,
not sure this is the handwriting of Rev. John Giessendanner
(transcription of the original by Joop Giesendanner)
in red = assumed to be there
copy of A.S. Salley just the words that differ from my transcription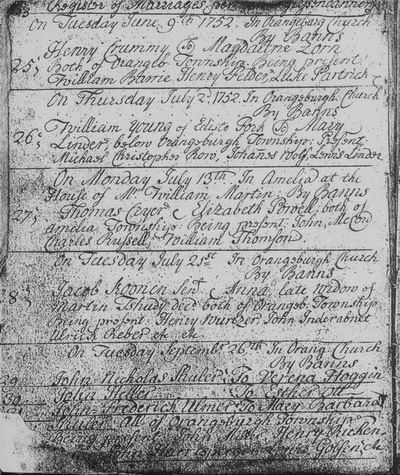 25. On Tuesday June 9th 1752 In Orangeburg Church ---- By Banns Henry Crummy To Magdalene Zorn Both of Orangeb. Township. Being present: William Barrie, Henry Felder, Luke Partrick.

26. On Thursday July 2d. 1752. In Orangeburgh Church ---- By Banns William Young of Edisto Fork To Mary Linder, below Orangeburgh Township: Present: Michael Christopher Row, Johannes Wolf, Lewis Linder.

27. On Monday July 13th. In Amelia at the House of Mr. William Martin: By Banns Thomas Cryer & Elizabeth Powell; both of Amelia Township: Being present: John McCord, Charles Russell, William Thomson

28. On Tuesday July 21st In Orangeburgh Church ---- By Banns Jacob Koonen Senr. & Anna, late widow of Martin Tshudy decd. both of Orangeb. Township Being present: Henry Wurtzer, John Inderabnet Ulrick Reber etc. etc.

On Tuesday Septembr. 26th In Orang. Church ---- By Banns
29. John Nicholas Shuler To Verena Hoggin
30. John Heller To Esther Ott
31. John Frederick Ulmer To Mary Barbara Shuler
All of Orangeburgh Township
Being Present: John Miller, Henry Rickenbacher, John Harrisperger, Lewis Golsen; etc.
26 Johannes Wolfe
27 William Thompson
28 Henry Wartzer, --------- Inderabnet
29/30/31 (missing ) John Harrisperger