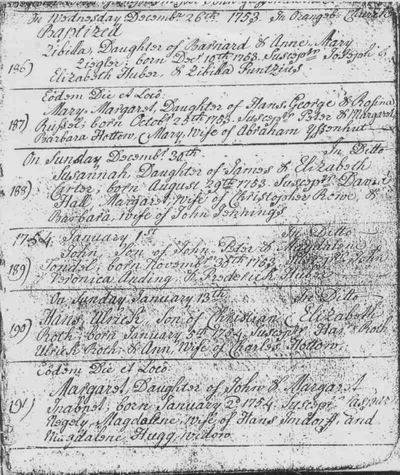 186} On Wednesday Decembr. 26th. 1753. In Orangeb. Church
Baptized
Zibella, Daughter of Barnard & Anne Mary
Ziegler; born Decr. 10th 1753. Susceptr. Joseph & Elizabeth Huber, & Zibilla Funtzius.

187} E˘dem Die et Loc˘ (The same day and place)
Mary Margaret, Daughter of Hans George & Rosina
Russel; born Octobr. 25th 1753. Susceptr. Peter & Margaret
Barbara Hottow, & Mary, wife of Abraham Yssenhut.

188} On Sunday Decembr. 30th ---- In Ditto
Susannah, Daughter of James & Elizabeth
Carter; born August 29th 1753. Susceptr. David
Hall, Margaret, wife of Christopher Rowe, &
Barbara, wife of John Jennings.

189} 1754: January 1st ---- In Ditto
John, Son of John Peter & Magdalene
Sondel; born Novembr. 30th 1753. Susceptr. John
& Veronica Anding, & Frederick Huber.

190} On Sunday January 13th ---- In Ditto
Hans Ulrick, Son of Christian & Elizabeth
Roth; born January 5th 1754. Susceptr. Hans Roth
Ulrick Roth, & Ann, wife of Charles Hottow.

191} E˘dem Die et Loc˘ (The same day and place)
Margaret, Daughter of John & Margaret
Inabnet; born January 2d. 1754. Susceptr. Caspar
Negely, Magdalene, wife of Hans Imdorff, and
Magdalene Hugg, widow.