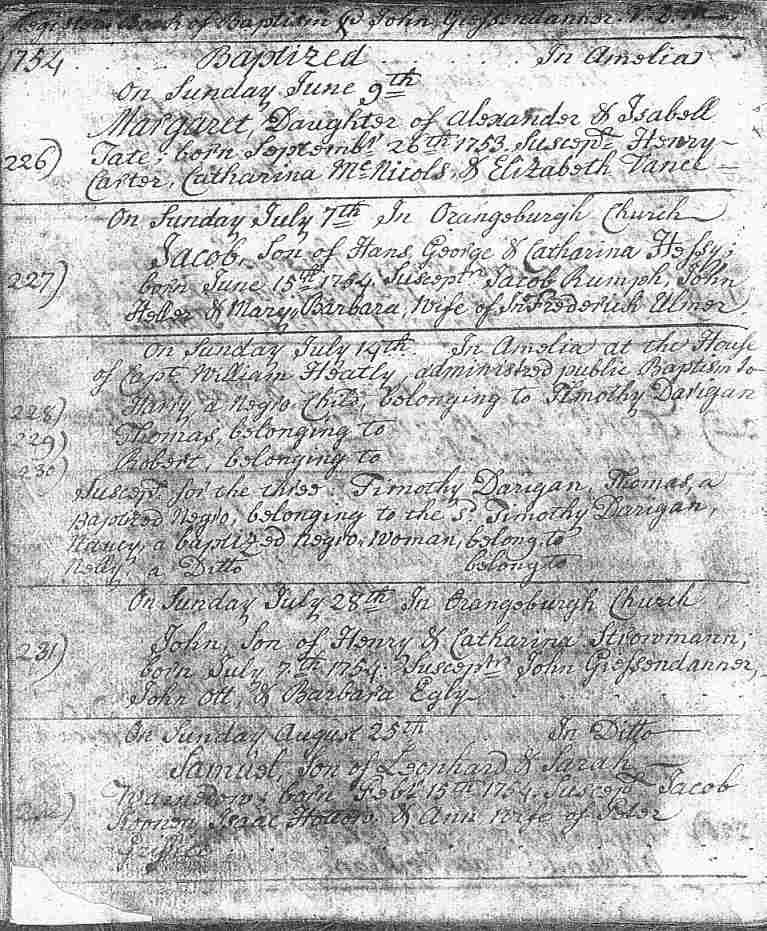 226} 1754 -- Baptized ---- In Amelia
On Sunday June 9th
Margaret, Daughter of Alexander & Isabell
Tate, born Septembr 26th 1753. Susceptr. Henry
Carter, Catharina McNicols, & Elizabeth Vance

227} On Sunday July 7th In Orangeburgh Church
Jacob, Son of Hans George & Catharina Hessy;
born June 15th 1754. Susceptr. Jacob Rumph, John
Heller & Mary Barbara, wife of Jno.Frederick Ulmer.

On Sunday July 14th -- In Amelia at the House
of Capt. William Heatly, administred public Baptism to
228) Harry, a negro Child, belonging to Timothy Darigan
229) Thomas, belonging to
230) Robert, belonging to
Susceptr. for the three: Timothy Darigan, Thomas, a
Baptized Negro, belonging to the sd. Timothy Darigan,
Nancy, a baptized Negro Woman, belong. to
Nelly, a Ditto .............., belong. to

231} On Sunday July 28th In Orangeburgh Church
John, Son of Henry & Catharina Strowmann;
born July 7th 1754: Susceptr. John Giessendanner,
John Ott, & Barbara Egly.

232} On Sunday August 25th ---- In Ditto
Samuel, Son of Leonhard & Sarah
Warnedow; born Febr. 15th 1754. Suscept. Jacob
Koonen, Isaac Hottow, & Ann, wife of Peter
Griffice.