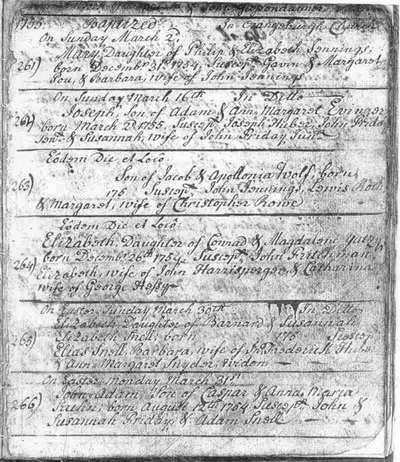 261} 1755 -- Baptized ----- In Orangeburgh Church
On Sunday March 2d.
Mary, Daughter of Philip & Elizabeth Jennings;
born Decembr. 31st 1754. Susceptr. Gavin & Margaret
Pou, & Barbara, wife of John Jennings


262} On Sunday March 16th ---- In Ditto
Joseph, Son of Adam & Ann Margaret Evinger;
born March 2d 1755. Suscept. Joseph Huber, John Friday
Senr. & Susannah, wife of John Friday Junr.


263} E˘dem Die et Loc˘ (The same day and place)
Son of Jacob & Apollonia Wolf; born
175? Suscept. John Jennings, Lewis Roth,
& Margaret, wife of Christopher Rowe


264} E˘dem Die et Loc˘ (The same day and place)
Elizabeth, Daughter of Conrad & Magdalene Yutzy
born Decembr. 26th 1754. Susceptr. John Fritchman,
Elizabeth, wife of John Harrisperger, & Catharina
wife of George Hessy.


265} On Easter Sunday March 30th ---In Ditto
Elizabeth, Daughter of Barnard & Susannah
Elizabeth Snell; born -- 175? -- Suscept.
Elias Snell, Barbara, wife of Jno Frederick Huber
& Ann Margaret Snyder, widow.


266} On Easter Monday March 31st
John Adam, Son of Caspar & Anna Maria
Kuhn; born August 12th 1754. Suscept. John &
Susannah Friday, & Adam Snell.