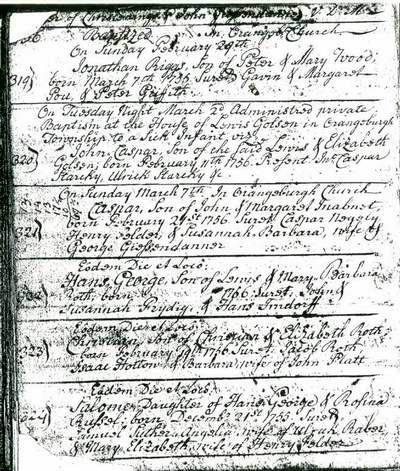 319} (17)56 -- Baptized ---- In Orangeb. Church
On Sunday February 29th
Jonathan Riggs, Son of Peter & Mary Wood,
born March 7th 1755. Suret. Gavin & Margaret
Pou, & Peter Griffith.

320} On Tuesday Night March 2d. Administred private
Baptis'm at the House of Lewis Golsen in Orangeburgh
Township to a Sick Infant viz.
John Caspar, Son of the said Lewis & Elizabeth
Golsen; born February 11th 1756. Present Jno. Caspar
Starcky, Ulrick Starcky &c.

321} On Sunday March 7th. In Orangeburgh Church
Caspar, Son of John & Margaret Inabnet;
born February 21st 1756. Suret. Caspar Negely,
Henry Felder, & Susannah Barbara, wife of
George Giessendanner.

322} E˘dem Die et Loc˘ (The same day and place)
Hans George, Son of Lewis & Mary Barbara
Roth; born 1756. Suret: John &
Susannah Frydig, & Hans Imdorff

323} E˘dem Die et Loc˘ (The same day and place)
Christian, Son of Christian & Elizabeth Roth;
born February 19th 1756. Suret: Jacob Roth,
Isaac Hottow & Barbara, wife of John Platt.

324} E˘dem Die et Loc˘ (The same day and place)
Salome, Daughter of Hans George & Rosina
Russel; born Decembr. 21st 1755. Suret.
Samuel Suther, Angelia, wife of Ulrick Raber,
& Mary Elizabeth, wife of Henry Felder.