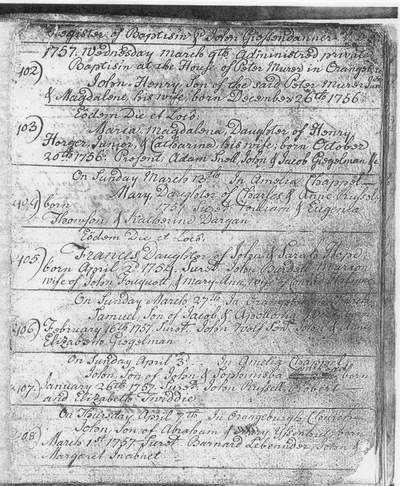 402} 1757. Wednesday March 9th. Administred private
Baptis'm at the House of Peter Murer in Orangeb.
John Henry, Son of the said Peter Murer Junr.
& Magdalene, his wife, born December 26th 1756.

403} E˘dem Die et Loc˘ (The same day and place)
Maria Magdalena, Daughter of Henry
Horger, Junior, & Catharina, his wife; born October
20th 1756. Present: Adam Snell, John & Jacob Giegelman &c

404} On Sunday March 13th In Amelia Chappel
Mary, Daughter of Charles & Anne Russel;
born 1757. Suret. William & Eugenia
Thomson, & Katharine Dargan

405} E˘dem Die et Loc˘ (The same day and place)
Frances, Daughter of John & Sarah Hope;
born April 2d. 1754. Suret. John Burdell, Marion,
wife of John Fouquett, & Mary Ann, wife of Conrad Halman.

406} On Sunday March 27th In Orangeburgh Church
Samuel, Son of Jacob & Apollonia Wolf; born
February 16th 1757. Suret: John Wolf Senr. John & Anne
Elizabeth Giegelman.

407} On Sunday April 3d -- In Amelia Chappel
John, Son of John & Sophinisba McCord; born
January 26th 1757. Suret. John Russell, Robert
and Elizabeth Twiddie

408} On Thursday April 7th In Orangeburgh Church
John, Son of Abraham & Mary Yssenhut; born
March 1st 1757. Suret: Barnard Lebennder, John &
Margaret Inabnet.